GambleRock released and all new site design just one month after launching their online casino community. The new design is sleek and modern. Its a responsive design that's mobile-friendly providing a nice user experience from both mobile devices and computers. The previous GambleRock design was dark in general with dark gray, black and white colors. The new design is much brighter and uses a nice combination of orange, gray and white colors to create a vibrant look and feel.
The right side column of the new design features a search box at the top. This is followed by a website navigation menu. Next there are the most recent community forum posts followed by the latest GR blog posts. There are also blog categories and archives present making it easy to browse the website's broad range of online gambling information.
Homepage layout
The gamblerock.com homepage is very intuitive and easy to navigate. The main body of the website welcomes the reader with a few paragraphs of text explaining what GambleRock does and how to use the website. You can also find a list of approved casinos listed on the website's homepage that include software, bonus and payment details for each of the online casinos listed.
GambleRock logo
You can see in the new logo provided below that is bold and colorful. It's also made clear that the website's purpose is being an online gambling community.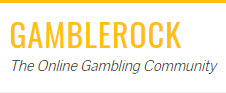 New design screenshot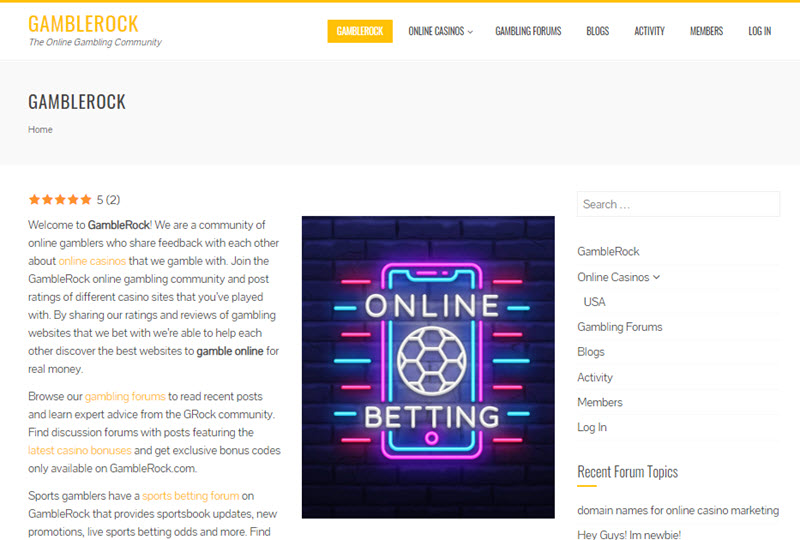 Community forum
Gamblerock.com has an active gambling forum dedicated to the online casino community. In the GambleRock forum players discuss a wide range of the most popular topics from Bitcoin and Blackjack to Slot Machines and Sports Betting. Gamblers can get GR exclusive bonus offers and the latest casino bonus codes in the bonuses forum.
Top 10 online casinos
Players looking for a reputable casino to play will find GambleRock's top 10 online casinos list (https://www.gamblerock.com/online-casinos/) to be a useful resource for learning information about which casinos are considered trustworthy and how to find trusted casino websites while searching around the web. GambleRock lists the 10 best online casino sites and updates the top 10 list on a monthly schedule.
Take a look at the new design on gamblerock.com.